ITS does not support the UVA Anywhere VPN client on Linux. These instructions may work but they are provided for user information only. UVA RC does not support usage of the VPN on any platform.
---
Setting up the VPN
Install Software Prerequisites

You must install some software using yum,dnf, or apt-get. Note the slight difference in naming convention between distributions.

Centos/RedHat/Fedora

These distributions need the following packages:

openssl
openconnect
NetworkManager-openconnect
NetworkManager-openconnect-gnome

Ubuntu

The packages are the same but the names are different. Ubuntu 18.04 and up requires an additional package.

openssl
openconnect
network-manager-openconnect
network-manager-gnome
network-manager-openconnect-gnome

It will be necessary for Network Manager to be able to manage the connection.

Obtain a Certificate

Go to this unpublicized Web location to obtain a certificate for an unknown device. Fill out the form.


Your passphrase need not be related to your Netbadge password, and it must be 15 characters or fewer. The MAC address of your system is optional for UVA Anywhere. You will receive a file ending in .p12. In this example we will assume it is named mst3k.p12.

Download the Usher certificate. This is the CA (Certificate Authority) certificate.

Extract Key and Certificate

NetWork Manager may not recognize the .p12 format. Extract the key and certificate with the following commands:

openssl pkcs12 -in mst3k.p12 -nocerts -nodes -out mst3k.key
openssl pkcs12 -in mst3k.p12 -clcerts -nokeys -out mst3k.crt

Convert the CA certificate

The .cer certificate is a Microsoft version of an "X509" certificate. NetworkManager may not recognize this, but you can convert it to the standard format with

openssl x509 -inform DER -in usher.cer -out usher.crt

This will not remove your original usher.cer.
Configure with Network Manager

Click the network app in your tray, or go to Settings->Network. Choose VPN and click the + to add a VPN.

Select the Cisco Anyconnect compatible VPN option.

Fill in the blanks for a new VPN.

Off-Grounds Rivanna users should use the ITS more-secure network. The gateway for that VPN is moresecure-vpn-1.itc.virginia.edu. The UVA-Anywhere gateway can be used by students for other purposes.

Click "Add."

In the Details tab, make sure that "Make available to all users" is not checked. This should be the default.
Connecting to the VPN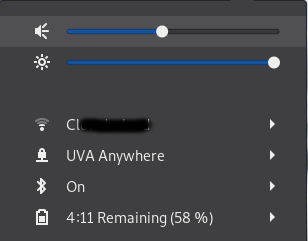 Start the VPN through the Network Manager, either through the applet in the tray (Ubuntu) or in the Notifications section of the taskbar (Centos/Fedora). The state can be controlled through the right arrow.
More Secure VPN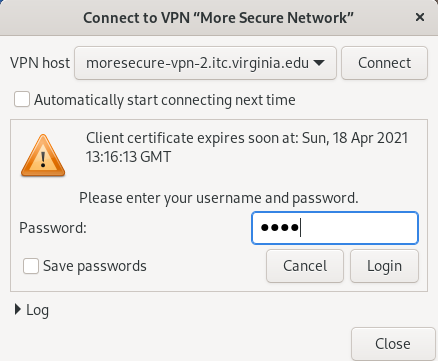 UPDATE: Users of the More Secure VPN will now be required to authenticate through Duo before connecting. When prompted for a password, enter the word push or PUSH (it is not case-sensitive); you will then receive an approval notification on your mobile device. After approving the request, the client will connect to the VPN. Alternatively, you may enter a passcode generated by Duo as the password.


---